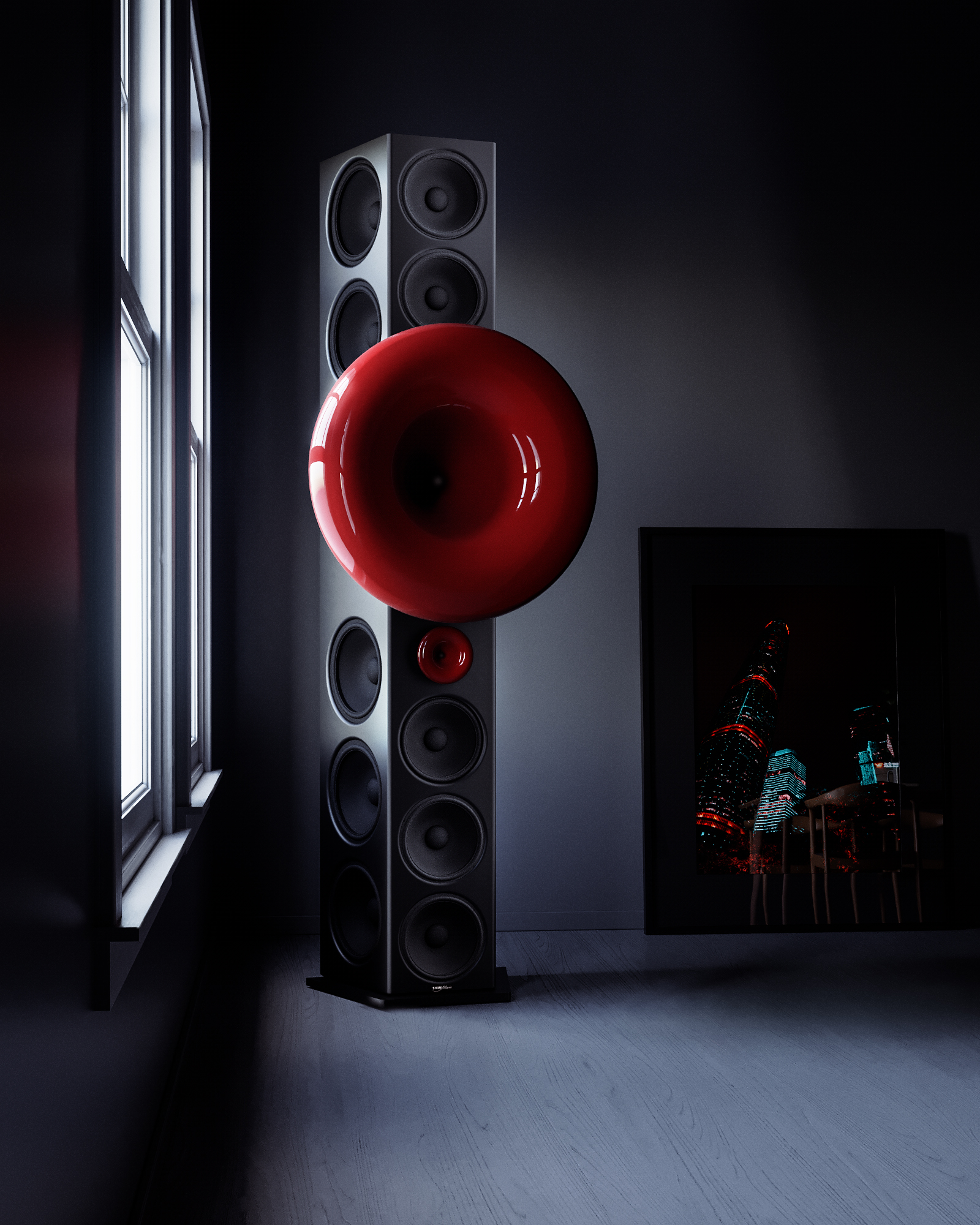 THE MASTERPIECE OF STEIN MUSIC
Our statement for the most authentic musical reproduction of any Kind. Top Line "Bob" XL is a unique combination of horns and open baffle on a small footprint of 23.4″ x 16.3″. Each speaker has an integrated, DSP-controlled active subwoofer with an amplifier output of 3000 watts to perfectly match the bass response to the room. The rest of the loudspeaker works passively with optimal performance down to 35Hz. A loudspeaker for larger rooms with a distance to the listener of more than 3 meters.
Power
Efficiency: 95dB/1W1m
Impedance: 6 Ohm
Frequency Response:  14Hz – 21KHz
Crossover Frequency: 4000Hz/570Hz/<60Hz
Active powered subwoofers: 6000 Watt DSP controlled
design
Material: Wood
Colors: The colors of the housing and horn can be chosen individually
Drivers per pair:
12" 24 pieces (4 of them passive)
10" 10 pieces
4" 2 pieces
1" 2 pieces
Weight: 211 Kg net for a pair of Bob XL
Dimensions: height 2290mm, width front 300mm, width back 510mm, depth box 355mm, depth including
horn 565mm, diameter horn 750mm
THE IDEA BEHIND THE TOPLINE BOB XL
The basic idea was to build a smooth sounding speaker with excellent impulse response. A horn gives a perfect adaption of the diaphragm movement to the air which then transports the sound. We have been choosing this concept for the mid and high frequencies as it significantly helps getting accurate low level information.
The idea was not to increase the efficiency, as doing this often tends to result in a clear but somewhat thin and harsh sound. Also we did not use compression drivers for exactly the same reason, but spend a lot of effort into a perfect matching between the horns and the drivers.
For the lower frequencies we decide to use an open baffle, as this concept perfectly loads the speakers at both sides in a balanced way. We also choose to go for speakers with a big surface: Decreasing the con area surface needs to be compensated by the excursion which is much less linear.
Having a large cone area means a significantly reduced cone displacement, so that the cones always move in their linear region, creating much lower distortions. In the lower midrange five 10" speakers with a surface of totally 320 square inches which are treated with a special carbon composite are doing their job.
The bass is reproduced by 10 pieces of carbon composite treated12" speakers, which provide a surface of more than 1500 square inches. Six of the bass speakers are mounted on each side of the housing, which gives an excellent impulse compensation and very low resonances in the housing.
Each speaker is powered by 3000 Watts in the bass section, and controlled by a DSP to perfectly adapt the bass response to the room. The rest of the speakers works passive, so that you may use your favorite electronics from 40Hz upwards without the need to drive current demanding bass speakers.
Only the best components are used in the crossover, and we did not only care for an excellent frequency response, but also a linear phase and a perfect transient response. Perfect technique for us is an absolutely essential aspect. But we believe creating devices which finally sound good need more. For us this is an art, like building a master violin, where good skills are essential but not sufficient.
General characteristics of the SteinMusic Top Line Speaker series
Open baffle for the non-horn loaded speakers achieves a perfect impulse response, as the speakers are not caged in a box.
Big diaphragm surface (> 4m² for the XL subwoofers) so that the displacement of the diaphragms is always small and in the linear region.
Horns for the higher frequencies excellently adopt the small displacement of the diaphragms to the air.
The radiating characteristics of the bass is that way that they will not stimulate the room resonances.
We use a line array for the deep mid frequencies, to achieve the same dispersion characteristics as the one from the horns.
All speaker diaphragms are treated with carbon composite for a coherent sonic character form the deepest bass till the highest audible frequencies.
Carefully selected drivers so that a very simple crossover with finest quality components may be used.
To achieve the best possible quality, critical inductors and capacitors are made in house by SteinMusic
All interior cable are specially designed for exactly the given purpose and precisely made by SteinMusic in Germany.
 The active integrated subwoofers make the speakers easy to drive with amps from 30 watts onwards.
The result is no typical speaker sound, but lots of music.
Jason Victor Serinus, May 25, 2022, at Stereophile magazine:
"…the Stein Music system produced good bass, lots of inviting midrange, and a smooth top. It triumphed through Youn Sun Nah's ridiculous, both barrels loaded, over-the-top "Ghost Riders in the Sky," and handsomely nailed the distinct timbre and body of the voices of Bryn Terfel and Simon Keenlyside performing an unusual arrangement of the opening movement of Pergolesi's Stabat Mater. Color me impressed."
Uwe Kirbach in Image HiFi 4/2022
"A real trade show highlight: Stein Music's Topline Bob XL sparkled, beguiled or dynamically pushed you into your seat."
THE TOPLINE BOB XL SUBWOOFERS
In a fully stabilized special cabinet with an open baffle and driven by a DSP-controlled amplifiernwith incredible 3000 watts of power, an array of eight 18″ handcrafted chassis with over 2m² of effective diaphragm works and provides linear and uncompressed reproduction down to 17Hz with 0 dB volume reduction. Through this colorful, differentiated and clear bass down to the lowest octave, the higher
frequencies are able to unfold much more efficiently in their own working range. Lineups in stereo and mono possible.
More than 2m², which are 22ft², effective membrane area in one speaker, means 4m² for the pair.
17Hz with 0 dB decrease in volume without any frequency linearization by the integrated DSP.
Per side 8 pieces of special 18" woofers.
Open baffle with DSP controlled 3000 Watts per side for uncompressed, deep, natural bass.
Colorful, differentiated clear bass down till the lowest octave gives the higher frequencies a much better impression of really being there.
Power
Active powered Subwoofers: 6000 Watt DSP
Drivers per pair: 18" 16 pieces
Crossover Frequencies: < 33Hz for the Bob XL Subwoofer
design
Material: Wood
Colors: The colors of the housing can be chosen individually
Weight: 262 Kg net for a pair of Bob XL Subwoofers
Dimensions: height 2290mm, width front 390mm, width back 560mm, depth 550mm
We recommend the use of SteinMusic amplifiers and cables.
The Bob XL + have been developed in combination with all our other original audio solutions, and so they are a perfect match to open up the speakers full potential. You however are free to combine it with a big variety of solid state, digital, tube or hybrid amps. As the speakers are self powered in the bass, the power requirements for the amplifier which will just need to serve all above 40 Hz are not as  big as one might imagine. So you may focus more on the sound you like rather than the power.
For moderate sound levels 60 Watt tube, hybrid or solid state will be sufficient, if you want to play loud 120 Watts are fine. But also amps with more than 1000 Watts per channel may give good results.