A SPEAKER THAT GROWS WITH YOUR NEEDS
Our smallest speaker of the High Line family, with similar qualities as the big ones and an astonishing price/performance ratio. The High Line "Bobby" S is a compact full range speaker with 80watt sinusoidal power handling.
Power
SPL:  88 dB
Impedanz: 4 Ohm
Frequency Range:  45 Hz – 24800 Hz
Crossover Frequency: 2400 Hz,  6/12 dB
design
Material: Wood
Colors: The colors of the housing and horn can be chosen individually
Weight: 13,5 kg (per piece)
Dimensions: Height: 395mm Width Front: 230mm Width Rear: 280mm Depth: 290mm
The basic idea was to build a coherent and relaxed sounding hornloudspeaker with an excellent impulse response.
For the high frequencies we have been choosing horns as they allow a perfect adaption of the diaphragm movement to the air.
We found that this significantly increases low level information, compared to a speaker moving the air directly.
The idea here was not to increase the efficiency by using compression drivers.
For our taste this often tends to result in a somewhat thin and harsh sound.
Many years of development have been spent into the perfect matching between horns and drivers, to achieve maximum finesse of sound.
An excellent frequency response, linear phase and perfect transient response for us are essential basics to create a good sounding speaker.
Highline BOBBY horn loudspeakers: a modular system
The SteinMusic Bobby M and Bobby L, means the Bobby S with Bass Extensions.
The Bobby Bass Extension is specially made to perfectly expand the capabilities of the Bobby S and Bobby S Signature monitor speakers to the size and performance of a floor-standing speaker.
The Bobby Bass Extension is a passive speaker with an integrated crossover, which is designed as a perfect match to the Bobby S hornspeakers.
It has exactly the correct height to serve as a stand for the Bobby S.
There are two options to use the Bobby Bass Extensions:
Add one Bobby Bass Extension under the Bobby S, and you will get a Bobby M.
Add another Bobby Bass Extension on top of the Bobby S, and you will get a Bobby L.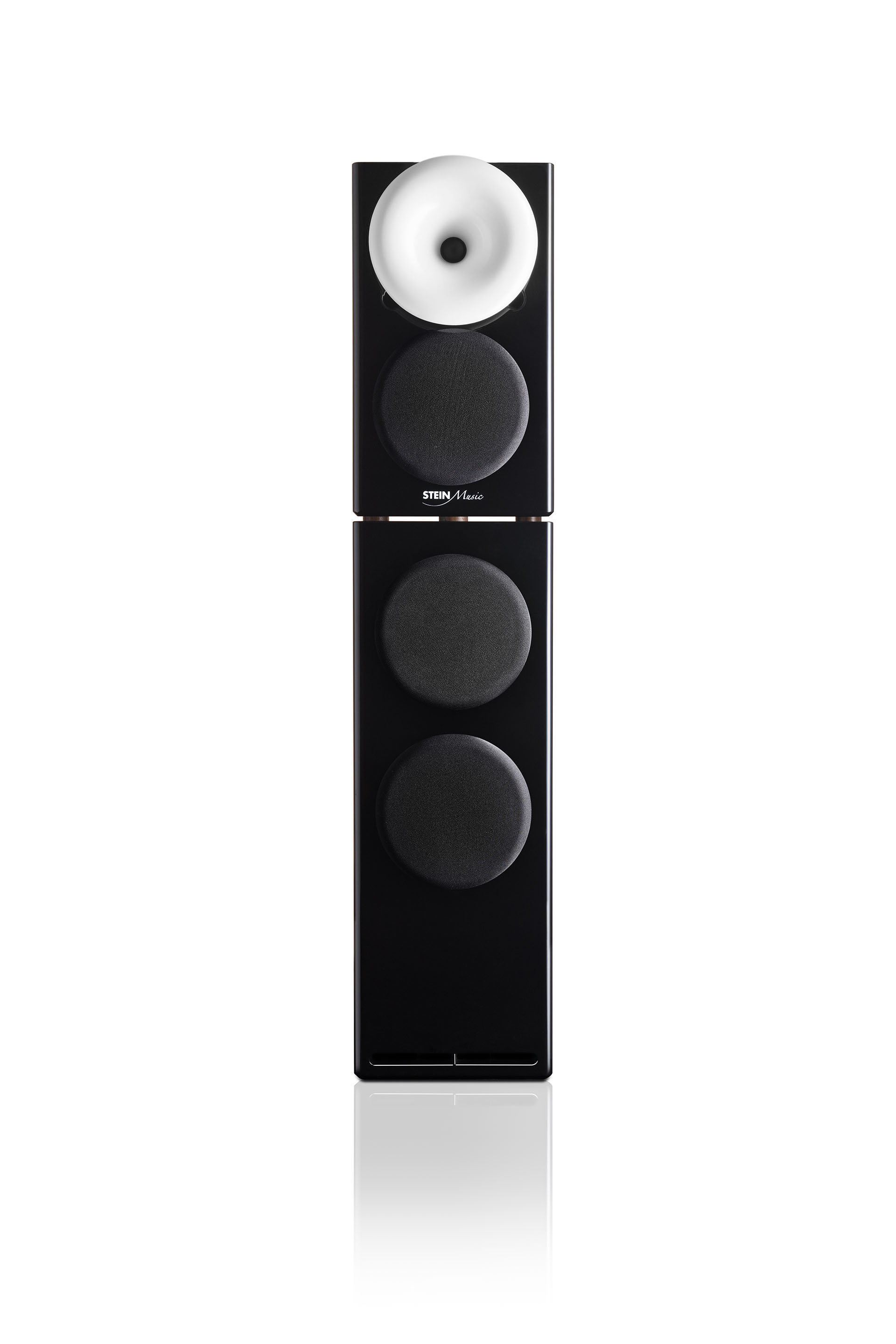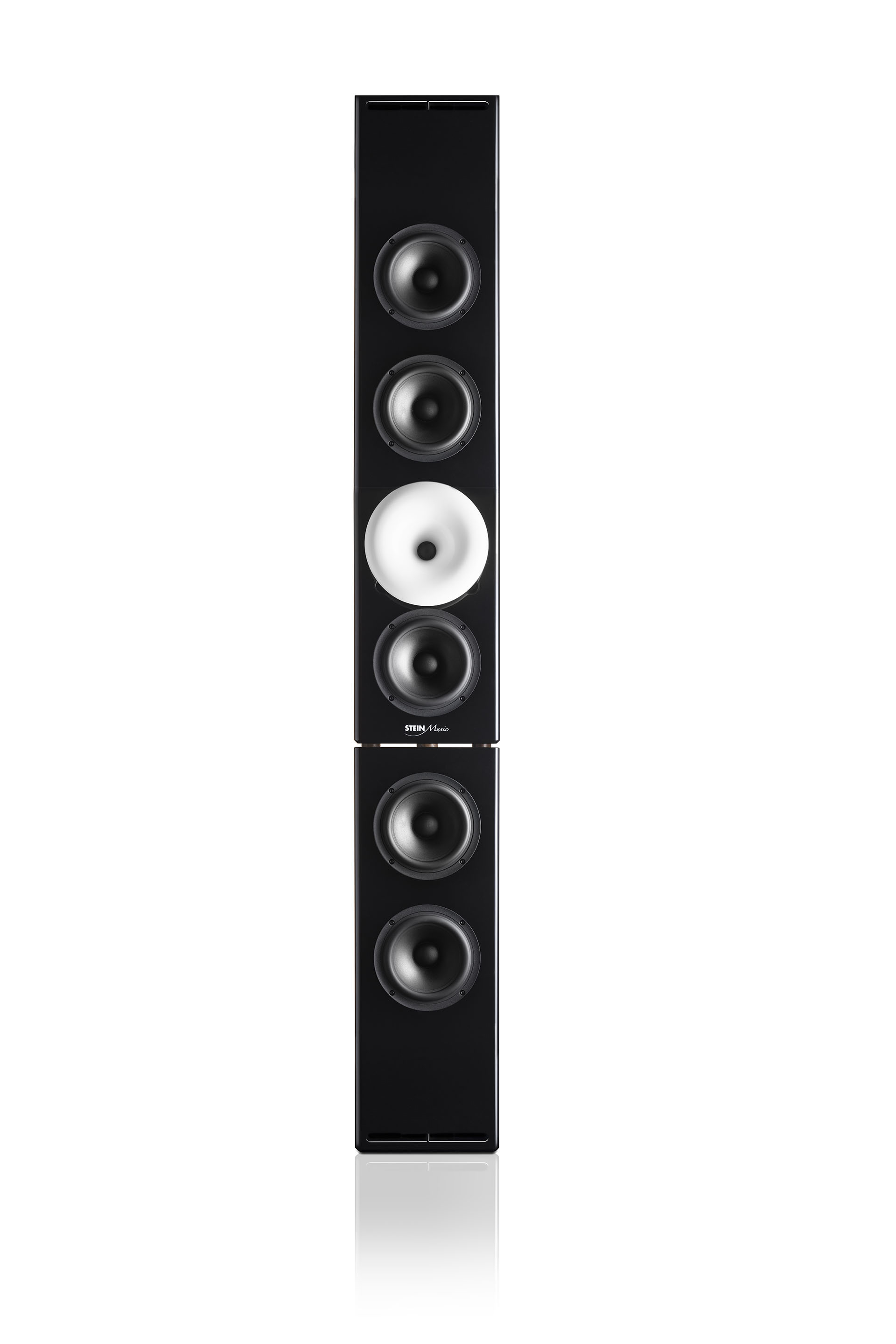 Reviews: What the press says about the Highline Bobby S Hi-Fi speaker
"The SteinMusic High Line "Bobby" S is a visually highly attractive two-way speaker, whose acoustic star is the horn tweeter: With it, the trapezoidal box succeeds in a wonderfully vivid and impulsive reproduction, which provides a lively, detailed sound image and develops an almost magical effect, especially in the reproduction of voices."
High Line Bobby S Review – U-Audio
— FINELY SELECTED AND MODIFIED
The bass speaker is a 6" speaker with a carbon coated natural fiber cone, and extremely little mechanical losses. As a tweeter we use a horn loaded silk dome tweeter, which is also carbon coated. The diaphragms of the bass and the tweeter are also both treated with SteinMusic Maestro lacquer. This treatment gives both a very natural sonic signature, which is equal all over the entire frequency range that the Bobby S is able to reproduce. We source those drivers from one of the best manufacturers, and besides the cone treatments we further modify and optimize them in many aspects to reduce mechanical losses and get an open sound with lots of detail and no colorations.
The bass speakers in detail
– Vented cast aluminum chassis for optimum strength and low compression
– Proprietary cone material with natural fibers
– Soft low damping rubber surround for transient response
– Non-conducting fiber glass voice coil former for minimum damping
– Extended copper sleeve on pole piece for low inductance and low distortion
– CCAW voice coil for reduced moving mass
– Long life silver lead wires
– Vented pole piece for reduced compression
The tweeter in detail
– Copper cap for reduced voice coil inductance and minimum phase shift
– Non-reflective rear chamber with optimized damping for improved dynamics
– Flow optimized vented pole piece for optimum coupling to rear chamber
– Fine weave soft fabric dome for smooth frequency response
– Saturation controlled motor system for low distortion
– CCAW voice coil for low moving mass
– Long life silver lead wires
– Low resonance frequency
The internal wiring is made of the finest solid core copper conductors. The diameter for the bass is 1mm, for the tweeter we use exactly the same style of conductors but decreased the diameter to 0,5mm. The result is a better resolution of the higher frequencies, maintaining a coherent overall reproduction.
— HANDMADE AND DEVELOPED INHOUSE
Before designing a crossover we have carefully matched and adjusted the drivers so that we may get best results with a simple configuration here, which ensures no detail of the music will get lost in this part of the speaker. Components Each component of the crossover was chosen after extensive listening tests. The most critical capacitor for the tweeter is an oil impregnated foil capacitor. We have decided for our sonically favorite cap of the Mundorf range. These we get as raw windings and further process it in our company according to our ideas and experience to achieve a unique fine, expressive sound without colorations.
The coil in the bass section is made out of individually insulated stranded wire, and as resistors we only use our favorite parts made by Beyschlag. In addition to the classical components used in a crossover, we also use our proprietary made InLine Matrix components to get rid of magnetic distortions.
— MANUFACTURED IN OUR WORKSHOP
The housing is a vented box with short tubes in the front behind the high range horn. It is wider in the back than in the front in an exactly defined ratio that we empirically found out to be the best solution here. One important aspect of this construction is that we will not have standing waves between the side walls. Another is that in combination with the 40mm thick back wall it gives the housings an enormous stability against unwanted housing resonances.
This allows us to work completely without any internal dampening material, which does not only absorb unwanted resonances but also always sucks out energy from the music. The Bobby S are equipped with solid walnut feet for a transparent but organic sound.
Two pairs of speaker terminals at the Bobby S speakers allow the use in bi-wiring or bi-amping. The choice of speaker terminals was a result of long listening tests of different models. We finally decided for a sturdy version that allows the use of banana plugs or spades.
At the terminal plate, you find two toggle switches where the character and volume of the high frequencies may be set, depending on the positioning and characteristics of the listening room and personal preferences.
All drivers, crossover components, terminals and cables are processed with a special in house developed technology reduce material stress, and so increase the conductivity for complex signals. In addition, we do use our unique quantum physical approach that you also find in our E-Pads. Also we use the SteinMusic InLine Silver devices in the crossover to avoid magnetic distortions.