The High Line "Bobby" M was created as a completely grown-up floor standing speaker system by combining the Highline "Bobby" S and a Highline "Bobby" Bass Extension.
This 240 watt, all-passive set surprises the listener with a completely unusual clarity and structure in the lower octaves for its size, while simultaneously focusing on authenticity and presence in the mid and high frequencies.
THE CONCEPT OF THE HIGHLINE BOBBY M
—– Unmatched Clarity and Performance
The basic idea was to build a coherent and relaxed sounding hornloudspeaker with an excellent impulse response. For the high frequencies we have been choosing horns as they allow a perfect adaption of the diaphragm movement to the air. We found that this significantly increases low level information, compared to a speaker moving the air directly. The idea here was not to increase the efficiency by using compression drivers. For our taste this often tends to result in a somewhat thin and harsh sound. Many years of development have been spent into the perfect matching between horns and drivers, to achieve maximum finesse of sound. An excellent frequency response, linear phase and perfect transient response for us are essential basics to create a good sounding speaker.
Dimensions
Height 1015mm, Width front 230mm, Width rear 280mm, Depth 290mm
MATERIAL
Standard Version / MDF 
Signature Version / Birch Plywood
Ultimate Version / Birch Plywood
Crossover Frequencies
80 Hz, electrically 18 dB; 2400 Hz, electrically 6/12 dB
Together with the mechanical filters this gives a very uniform phase and frequency range.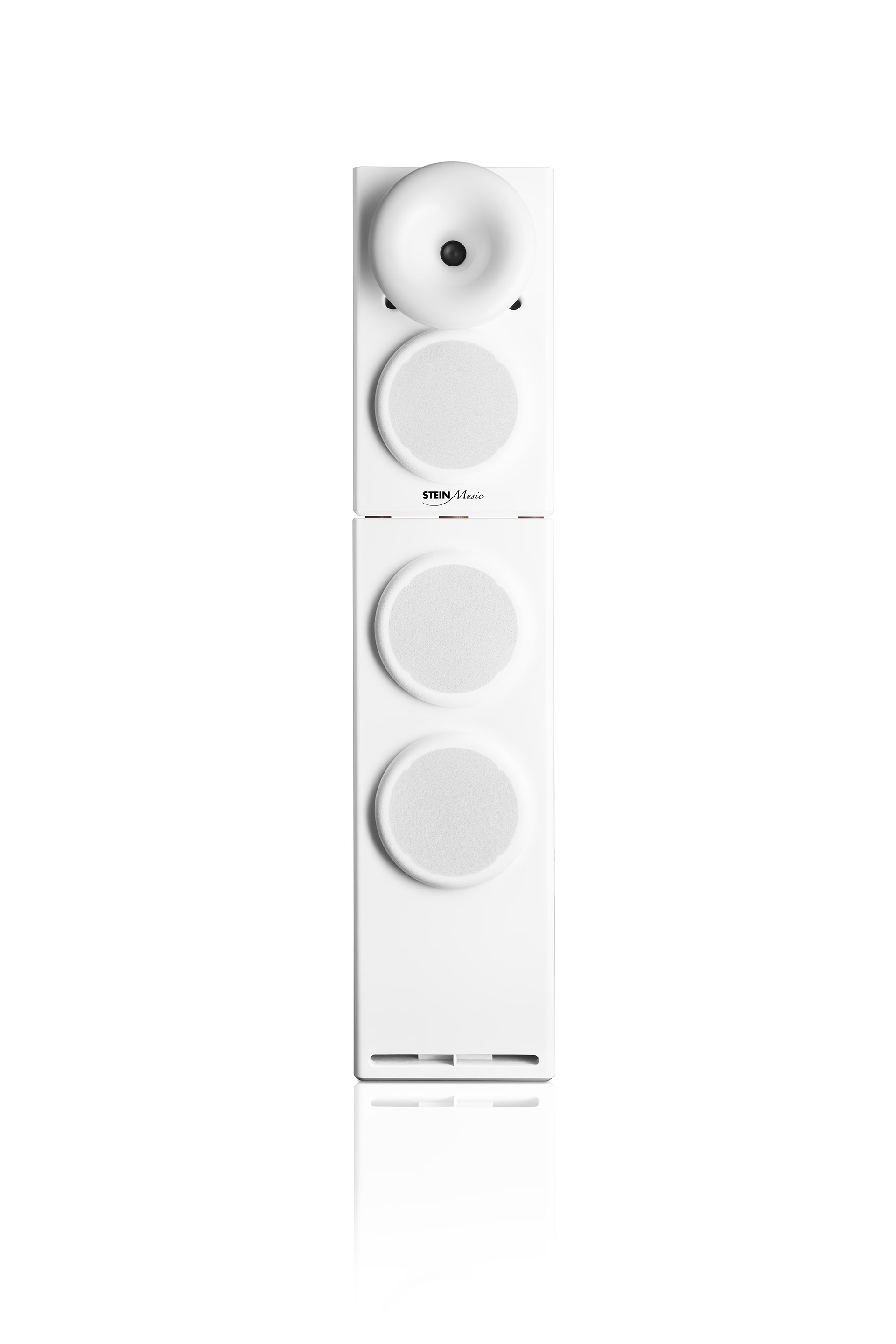 —- Finely selected and Modified
As bass speakers we use 2 pieces of the same 6" speaker with a carbon coated natural fiber cone, and extremely little mechanical losses as in the Bobby S. By this we ensure to get a sonic characteristics which perfectly fits to the Bobby S. The diaphragms of the bass is also treated with SteinMusic Maestro lacquer. This treatment gives a very natural sonic signature, which is equal all over the entire frequency range that the Bobby M or L is able to reproduce. We source those drivers from one of the best  manufacturers, and besides the cone treatments we further modify and optimize them in many aspects to reduce mechanical losses and get an open sound with lots of detail and no colorations.
THE BASS SPEAKER IN DETAIL
– Vented cast aluminum chassis for optimum strength and low compression
– Proprietary cone material with natural fibers
– Soft low damping rubber surround for transient response
– Non-conducting fiber glass voice coil former for minimum damping
– Extended copper sleeve on pole piece for low inductance and low distortion
– CCAW voice coil for reduced moving mass
– Long life silver lead wires
– Vented pole piece for reduced compression
THE TWEETER IN DETAIL
– Copper cap for reduced voice coil inductance and minimum phase shift
– Non-reflective rear chamber with optimized damping for improved dynamics
– Flow optimized vented pole piece for optimum coupling to rear chamber
– Fine weave soft fabric dome for smooth frequency response
– Saturation controlled motor system for low distortion
– CCAW voice coil for low moving mass
– Long life silver lead wires
– Low resonance frequency
The Cabinet of the Bobby S is a ventilated speaker cabinet with a wider back than front, designed to avoid standing waves and eliminate the need for internal damping materials. It also features solid walnut feet for an organic sound. The Cabinet of the Bobby Bass Extension is similarly built, with a contoured bass reflex tube and a sturdy construction that also eliminates the need for internal damping materials.
CABINET BOBBY S
The cabinet is a ventilated cabinet with short tubes in the front behind the high frequency horn. It is wider at the back than at the front in a precisely defined ratio, which we have empirically found to be the best solution. An important aspect of this construction is that there are no standing waves between the side walls. Secondly, in combination with the 40mm thick rear panel, it gives the cabinets enormous stability against unwanted resonances. This allows us to work without any internal damping material, which not only absorbs unwanted resonances, but also takes energy out of the music. The Bobby S are equipped with solid walnut feet for a transparent but organic sound.
CABINET BOBBY BASS EXTENSION
The housing is a vented box. The bass reflex tunnels are located close to the bottom, and we have chosen a contour that changes its diameter slowly over the length. Be this we get a much better contour of the bass. The housing is wider in the back than in the front in an exactly defined ratio that we empirically found out to be the best solution here. One important aspect of this construction is that we will not have standing waves between the sidewalls, which in addition are stiffened with a bar. This gives the housings an enormous stability against unwanted housing resonances. This allows us to work completely without any internal dampening material, which does not only absorb unwanted resonances but also always sucks out energy from the music. Also the Bobby Bass Extension are equipped with solid walnut feet for a transparent but organic sound.
The internal wiring is made of the finest solid core copper conductors. The diameter for the bass is 1mm, for the tweeter we use exactly the same style of conductors but decreased the diameter to 0,5mm. The result is a better resolution of the higher frequencies, maintaining a coherent overall reproduction.
All drivers, crossover components, terminals and cables are processed with a special in house developed technology reduce material stress, and so increase the conductivity for complex signals. In addition, we do use our unique quantum physical approach that you also find in our E-Pads. Bobby S and Bobby Bass Extensions are equipped with solid walnut feet for a transparent but organic sound. In addition the Bobby Bass Extensions have receptions for these feet from the Bobby S in their top, and the contact surface is massive mahogany.
One pairs of speaker terminals at the Bobby S speakers allow the use in bi-wiring or bi-amping. The choice of speaker terminals was a result of long listening tests of different models. We finally decided for a sturdy version that allows the use of banana plugs or spades.
There are no further switches necessary, but depending on the positioning and characteristics of the listening room and personal preferences, you may use some of the acoustic foam parts in one or both bass reflex channels.
Before designing a crossover, we carefully tuned and adjusted the drivers so that we can achieve the best results with a simple configuration that ensures that no details of the music in this area of the speaker are lost.
Each component of the crossover is of the best quality and was chosen after extensive listening tests. The most critical capacitor for the tweeter is an oil-impregnated film capacitor. We have opted for our favourite Mundorf capacitor in terms of sound. We receive these as raw windings and process them in our company according to our ideas and experience to a capacitor with a unique, fine, expressive sound without discolouration. The coil in the bass range consists of individually insulated strands, and we use only our preferred Beyschlag film resistors as resistors. In addition to the classic components used in a crossover, we also use our proprietary InLine Matrix components to avoid magnetic distortions.